death
Easter
Gospel
Jesus
resurrection
sin
Why is Good Friday good?
16 April 2014 Hits:21201
"Jesus had to die because the Prime Minister didn't like him. He didn't like him because everybody liked Jesus and nobody liked the Prime Minister. At Easter, we have eggs because chickens are born at Easter time" (Bella, 7).
"We have chocolate eggs to celebrate Easter because the tomb was empty and most eggs are hollow, except when they have chocolate buttons in them" (Piers, 8).
"Jesus died because of God's love and at Easter time we have eggs because they are a sign of new life. They're made of chocolate because chocolate is really nice and Jesus was a really kind person" (Molly, 8).
What did happen on Good Friday?  And why did Jesus have to die? If Jesus died on this day then why is it called GOOD?
It's important to know that it was, in fact, religion that killed Jesus.  The religious leaders of Jesus' day were jealous of the support and following that Jesus had and so they plotted a way to get rid of him – and they succeeded (for three days!)  Not much has changed; religion is still trying to kill Jesus today.  In fact, some religious institutions kill Jesus every week – some kill him every year.
This is highlighted in a response to a blog I wrote over a year ago.  Speaking of Good Friday the person wrote:"This is the day of the year that I wish would end quickly for it is a day of mourning and grief. Every minute of this day I am constantly thinking about His suffering. We call this day good only because of ourselves. We are to die with Him on this day … on this day of remembrance, mourning, and grief, are we not going to remember, mourn, and grieve? Sadly, for most people they will not remember, they will not mourn, and they will not grieve … on this day of sadness, I hope the Lord keeps me a little more subdued and a little more humble. For Christ died on this day of darkness and I am grieving a bit now…"
But what does the Bible say about Jesus sacrifice?
Hebrews 7:27, "Unlike the other high priests, he does not need to offer sacrifices day after day, first for his own sins, and then for the sins of the people. He sacrificed for their sins once for all when he offered himself."
Hebrews 9:26, "Then Christ would have had to suffer many times since the creation of the world. But now he has appeared once for all at the end of the ages to do away with sin by the sacrifice of himself."
Hebrews 9:28, "so Christ was sacrificed once to take away the sins of many people; and he will appear a second time, not to bear sin, but to bring salvation to those who are waiting for him."
Hebrews 10:10, "And by that will, we have been made holy through the sacrifice of the body of Jesus Christ once for all."
Get the message?
Jesus doesn't need to die again every week or every year.  His death on the cross two thousand years ago was enough.  On the cross, Jesus took the punishment that belonged to us.  We are the ones who have broken God's Law.  We deserved to be punished.  But in his love and mercy, Jesus bore our punishment for us. The sacrifice he made was enough and to prove that is was, three days later God raised Jesus from the dead – and he didn't die again.  That's why Good Friday is GOOD!
My prayer for you this Easter is that you will come to know, appreciate and experience the power and value of the sacrifice Jesus has made for you on the cross.
Some years ago, a 14-foot bronze crucifix was stolen from Calvary Cemetery in Little Rock, Arkansas. It had stood at the entrance to that cemetery for more than 50 years. The cross was put there in 1930 by a Catholic bishop and had been valued at the time at $10,000. The thieves apparently cut it off at its base and hauled it off in a pick-up. Police speculate that they cut it into small pieces and sold it for scrap for about $450.  They obviously didn't realize the value of that cross.  May we not be so blind!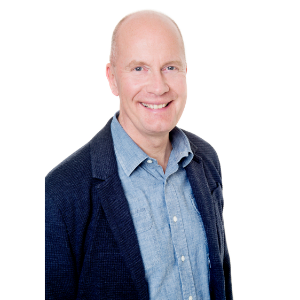 Rob Buckingham
Senior Minister
Share Us