Gospel
Grace
love
The Simple Gospel
16 May 2013 Hits:2313
With growth come many benefits.  With the benefits come countless responsibilities and complexities.  And it is these things that sometimes make us look back with longing for the simpler, less complex days.  And here lies the challenge as we grow to Christian adulthood – what was once simple and uncluttered becomes complex and chaotic.
It was this dilemma that the apostle Paul addressed when he wrote these words to the Corinthian Christians who had complicated their faith: "But I fear, lest by any means, as the serpent beguiled Eve through his subtlety, so your minds should be corrupted from the simplicity that is in Christ" (2 Cor. 11:3).  I love those words: "the simplicity that is in Christ."  The simple message that even a child can understand.
That's why, when Jesus was asked by His disciples, "who, then, is the greatest in the kingdom of heaven?"  Jesus called a little child to him, and placed the child among them. And he said: "Truly I tell you, unless you change and become like little children, you will never enter the kingdom of heaven."  Jesus' disciples were jostling for position – grown men acting in a childish way.  Jesus reminds them that even as they grow into maturity they are never lose their childlike qualities.
I have been studying the Bible for over 30 years.  It's an amazing and life-changing book but it's not all easy to understand. One of Jesus' disciples acknowledged this in his second epistle referring to the writings of Paul, "His letters contain some things that are hard to understand…" (2 Peter 3:16)
I love the story of Karl Barth who is often regarded as the greatest Protestant theologian of the twentieth century.  His prolific theological studies and writings shaped a century and were instrumental in combating liberal theology.  His commentary, "The epistle to the Romans" is considered by many to be one of the most important theological treatises of all time.  Barth's theology found its most sustained and compelling expression through his thirteen-volume magnum opus, the Church Dogmatics that is widely regarded as one of the most important theological works of the century. The Church Dogmatics runs to over six million words and 8,000 pages and is one of the longest works of systematic theology ever written.
And yet when Karl Barth was at Rockefeller Chapel on the campus of the University of Chicago during his lecture tour of the U.S. in 1962, after his lecture, during the Q & A time, a student asked him if he could summarize his whole life's work in theology in a sentence. Barth responded, "Yes, I can. In the words of a song I learned at my mother's knee: 'Jesus loves me, this I know, for the Bible tells me so."
Karl Barth, a man of great learning, understanding and maturity had not lost touch with the simple gospel – a message so simple that even a child can understand it.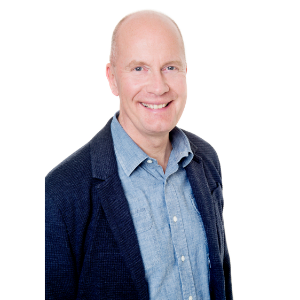 Rob Buckingham
Senior Minister
Share Us