Jesus
racism
Wellbeing
Harry, Meghan and Jesus
17 March 2021 Hits:1479
Last week, Christie and I, along with millions of others, watched the Oprah interview with Prince Harry and Meghan Markle. I must admit to not being terribly excited about the prospect of seeing it. Still, the rest of the family was keen, so here are some take home thoughts:
Everyone has an opinion
What followed was several days in which newspapers, TV shows, and social media seemed interested in little else. Professional commentators and amateurs alike had various opinions of the couple's attitudes, behaviour, and words. Families and friends across the world have been arguing passionately about the Royal Family. Are Harry and Meghan manipulators or schemers, victims or bullies? Were they innocent or guilty? Was it the Queen's fault, or was it Prince Charles? Or Prince Phillip? Everyone wanted someone to blame.
I will not comment on the interview or their behaviour, but the hubbub made me wonder what Jesus thinks. Who would Jesus blame? Whose side would he take?
Jesus' Example
And that's just it. Whenever Jesus was challenged to blame people, to take sides, he questioned the motives and actions of others instead. Consider these examples:
A prostitute washed Jesus' feet with her tears and hair and anointed him with expensive perfume. Those present questioned her motivation and generosity as well as Jesus' discernment. But Jesus didn't condemn her. Instead, he celebrated her heart and actions.
A soldier from the oppressive army occupying Jesus' country asked for help for his beloved servant. Jesus gave it.
As a religious teacher, people were shocked when Jesus invited himself to a cheating traitor's home, treated as an outcast by Jericho's townspeople. They grumbled and gossiped until the money started to flow from Zacchaeus' wallet when his heart was transformed by Jesus' love and acceptance.
Jesus touched lepers. He was not repulsed by people considered to be outcasts. He talked to women, a taboo for a single man in his culture. Jesus frequently shattered the stereotypes of every expectation of a religious leader. And the people loved him for it.
Acceptance First
The wonderful thing is that the people who met Jesus in first-century Palestine were profoundly changed. It's important to note that, on most occasions, Jesus didn't demand change first. He welcomed and accepted people unconditionally as a precious gift. Often, individuals, communities, and cultures reject people who do not look like them or don't behave in line with "the norms".
This acceptance by Jesus of others is one reason why he is such a compelling figure to me. This gift of his acceptance attracted me to follow him when I was a young atheist radio DJ. This same acceptance has challenged millions of people throughout history and across the globe to strive to live the same way.
This desire to follow Jesus' example has challenged me to model that same acceptance to others. Sure, I fail at this sometimes, but desiring to be courageously like Jesus gives me example and motivation. And this is my challenge for all of us. As we express our opinions about Harry and Meghan, are we showing the acceptance of Jesus?
And what about in everyday life? As Jesus' followers, do we accept or shun? Do we embrace or reject? Do we harbour secret feelings of superiority? Like the Pharisee who stood by himself and prayed, "God, I thank you that I am not like the other men – swindlers, evildoers, adulterers" (Luke 18:10-11). This man was very religious, but his pride prevented him from accepting those he considered unworthy.
Sadly, this kind of religious superiority and bigotry is still alive and well in Jesus' church. For them, people need to get their beliefs and behaviour in line BEFORE they can belong. Jesus flipped this on its head and put BELONG at the front. Christians and Churches would do well do to get the order right too.
We have witnessed much hype around Harry and Meghan's interview. Everyone's got an opinion about them, and the Queen, Prince Charles & Camilla, William and Kate. After all, we've watched The Crown, on Netflix, haven't we?
What we witness in the Royal Family is what we see in all humanity. We are all deeply flawed. We are all deeply loved by God. We are all eternally accepted in Jesus. May our lives reflect that same level of grace.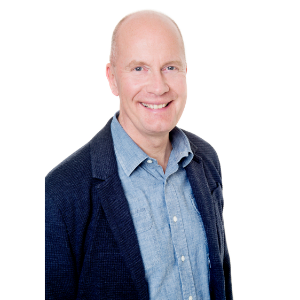 Rob Buckingham
Senior Minister
Share Us